From the days when state-owned Voice of Kenya (VoK), now Kenya Broadcasting Corporation (KBC) was the only broadcaster in the country, the television industry has grown in leaps and bounds.
Liberalization of the economy saw several stations emerge, and production of local content ramped up as they compete for all-important ratings and market share.
A number of TV shows which no longer air in Kenya today were particularly influential in pioneering various concepts and formats still seen on our screens today. In this article, Kenyans.co.ke looks at seven cancelled shows that revolutionised the Kenyan TV landscape.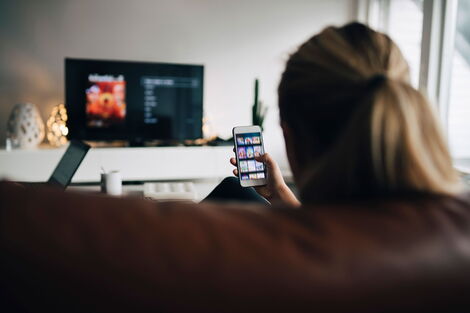 A file image of a person watching TV
File
1. Mizizi 
Mizizi, which aired on KBC in the late '90s and early 2000s was the first magazine show for urban Kenyan music to air on mainstream television.
The show hosted by Nimmo Njenga is cited by numerous legendary artists for offering them the a platform to show their music to a national audience. It was among the first shows to air music videos when such productions were still considered a rarity among local artists.
Several other shows mirroring Mizizi emerged in the years that followed, including Str8 Up, The Beat and Club One.
2. Coca Cola Pop Stars East Africa
Coca Cola Pop Stars first aired in Kenya in 2004 and is widely considered as the first music reality competition show to hit screens in the country.
The competition was won by Sema, a group with three members including singer and media personality Sanaipei Tande.
It paved the way for other reality shows, most notably Tusker Project Fame (TPF) which debuted a few years later and ran for several seasons, becoming one of the most popular TV shows ever. Other talent reality shows such as Talanta Mtaani have since cropped up as well.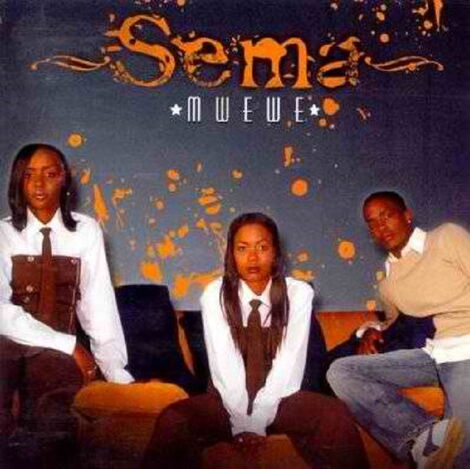 Sanaipei Tande, Pam Waithaka, and Kevin Waweru seen on an album cover after winning 'Coca Cola Pop Stars East Africa' in 2004
File
3. Vitimbi
Vitimbi is considered as the country's pioneer sitcom and entertained the country for decades as it aired on KBC.
The cast which had the late Benson Wanjau as Mzee Ojwang' and Mary Khavere as his on-screen spouse, Mama Kayai became some of the most recognisable faces in the country.
Vitimbi is credited by many actors and creatives as having paved the way for Kenyan sitcoms such as Papa Shirandula, Beba Beba and Auntie Boss to thrive.
4. Nairobi Diaries
Nairobi Diaries is a celebrity reality show which debuted on K24 in 2015 and ran for four years. The show had well-known city socialites as its main cast, with cameras following them in various situations.
Nairobi Diaries quickly built up a cult following, engrossed in the dramatic fights and squabbles between cast members that characterised the show.
Nairobi Diaries, however, also attracted criticism in some quarters for what some considered to be a cheap production with tasteless themes.
In what could be a pointer to its influence, celebrity reality shows with high production value became the rage soon after, with shows such as Bahati Reality and Dine With the Murayas proving popular.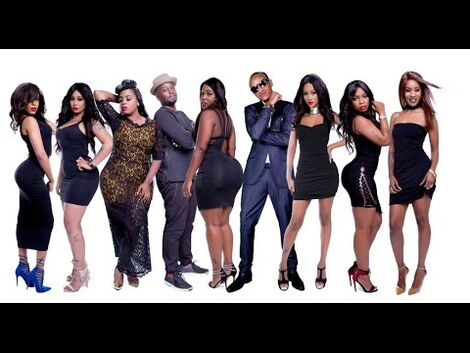 File image of Nairobi Diaries cast members
File
5. Kiini Macho
Kiini Macho was a children's show which aired on KBC in the 90's. It was particularly popular for a segment in which a magician performed various tricks.
The phrase 'Rambo Bambo Boom Boom Boom' became quite well-known as it was the catch-phrase used by the TV magician before every big reveal.
Several children's shows with different segments for learning, play have since aired on Kenyan television. Among them are Know Zone, Club Kiboko and Generation 3.
6. Tujuane
Tujuane was among the first-ever dating reality shows to hit Kenyan TV. It debuted on KTN in the early 2010s and quickly amassed a large, loyal viewership.
Its concept of pairing potential partners up for blind dates proved especially popular with social media users, who waited for each episode to make jokes, memes and comments on the potential couples.
Several shows have since emerged with similar concepts, such as Perfect Match which aired on Ebru TV.
7. Omo Pick-a-Box
Sponsored by a detergent company, Omo Pick-a-Box was one of the first televised game shows in the country.
Participants got a chance to walk away with various prizes depending on their answers to various questions. The show was a must-watch in several Kenyan households.
Today, a number of game shows with different concepts and prizes exist, such as The Quiz Show which airs on Switch TV.
Screengrab from a past episode of 'Omo Pick a Box'
Twitter