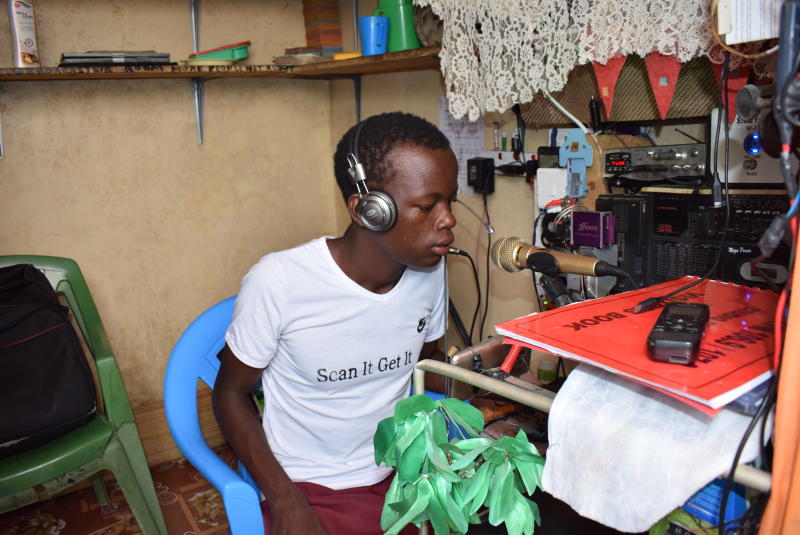 When schools were closed due to Covid-19 outbreak, a form three student in Homa Bay county saw an opportunity to use his love and passion for science as well as his juakali skills to open a radio station.
Steve Biko Odhiambo of Father Tilen Mixed Secondary School in Mbita Sub-county has become the talk of the entire Nyanza region after defying odds to build a radio transmission system.
The radio transmission system is made of electronic devices from old radio sets, mobile phones and other used electronic appliances. The assorted electronic devices include transistors, capacitors, cables among others.
The process of assembling the electronic appliances and construction of the system began in March.
Read More
In June, his efforts became successful following research he did in Physics books and trials using the electronic devices. He managed modify old gadgets including an amplifier, a microphone, a desktop computer and a smart phone which he uses to receive on-air calls from listeners.
The boy managed to receive the old gadgets through support of villagers with whom he shared his agenda.
He made the transmission system even though he had never visited any radio station where transmission takes place.
Towards the end of July, the local community allowed him to use a stalled water kiosk adjacent to Onundo Stadium to install his studio.
With his electronic knowledge, Odhiambo also installed the radio on his own.
The transmission system works through Frequency Modulation (FM).
In the first week of August, Odhiambo started hitting the airwaves with radio broadcast.  This was the birth of Konzer FM, which broadcasts in Dholuo. It is heard on 106.9 or 107.0 FM.
During that time, the radio station could only cover a radius of 100meters. It could only be heard in Mbita town.
But later in September, Odhiambo disassembled the transmission system and improved the strength of transmission to the current radius of 26km.
Today, Konzer FM is heard in the entire Mbita Sub-county and parts of surrounding sub-counties such as Suba, Ndhiwa and Homa Bay.
It has talk shows, musical and news programmes aired between 5.00 am to 10.00 pm every day.
Even though the environment in which the radio station operates may not be attractive, Odhiambo's efforts are appreciated by many people in the area.
When we met him in the studio on Monday, he demonstrated confidence that the efforts were culmination of his dream which began eight years ago when he was in class four.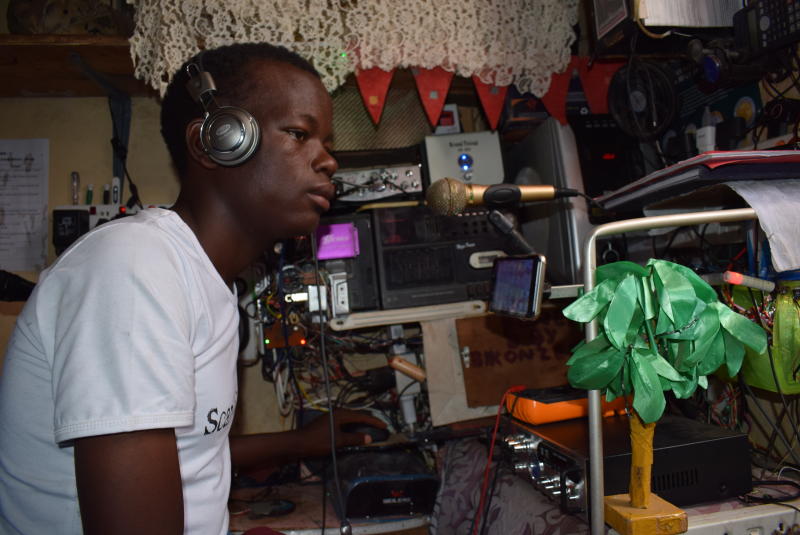 The dream was driven by his enthusiasm to know how cables connected radio studios and radio sets to aid transmission.
"Sometimes, I could lie down facing up to see how transmission was taking place between radio sets and studios in Nairobi. But I never saw any. That is how I started to think of how to make a radio transmission system using old electronic gadgets," Odhiambo said.
He made a transmission system that year but it was unsuccessful.
The student attributes success in the current achievement to his knowledge in Physics subject and research.
Today, the radio station can generate income of between Sh100 and Sh200 acquired from sale of cards for greetings.
He has already recruited two radio presenters who are volunteering.
"My main work here is to monitor and repair the transmission system in case of any technical hitches. I also run radio shows," Odhiambo said.
He is calling on the Communication Authority which regulates broadcast transmissions to help him have his radio station registered.
Odhiambo, however, insisted that the radio station will not kill his ambition of becoming an electric engineer. This is after many people advised him to stop going to school and concentrate on manning the radio station.
"My presenters will run the radio station when I go back to school in case learning resumes soon. My ambition is to join a university and become an engineer," he said.
Father Tilen Mixed secondary school Principal Martin Opere called on the government to intervene and support the boy soon.
Opere argued that the boy can significantly contribute to this country in the field of innovation if he is accorded requisite support.
"This boy's potential has come at the right time when the government talks about innovation… The government needs to support this boy with the required resources as soon as possible to enable him proceed with more innovations," Opere said.
Opere described the student as a genius in practical subjects such as Chemistry and Physics.
"He can get 100 per cent in Physics practical. He is generally above average in academic performance. This boy is an innovator," the Principal said.
During our visit to Mbita town, almost everyone was listening to Konzer FM in their business premises.
They acknowledged the radio station for offering them entertainment and educational programmes.
The radio station has become popular in the area and enabled the residents to form an organization called Konzer FM Fans, which they use to undertake income generating activities.