Kenya National Highways Authority (KeNHA) has lost a tussle in which it was seeking to repossess a parcel of land on which a Ksh2 billion hotel stands.
The Standard on Wednesday, October 28, reported that the authority had filed and obtained a notice from the National Land Commission (NLC) revoking the Ole Sereni Hotel title deed in 2018.
KeNHA lamented that a section of the hotel valued at Ksh2 billion had been constructed on a road reserve.
Justice Bernard Eboso, however, reversed NLC decision explaining that the owners of the hotel had not been granted a proper hearing.
Ole Sereni Hotel building located along Mombasa Road.
Twitter
He also observed that the commission had produced conflicting dates when the directors were offered a chance for a hearing.
In a gazette notice, the commission had claimed that it invited the directors between January 30, 2017 and February 2, 2017.
NLC's verdict before the revocation, however, indicated that the directors had been invited on March 27, 2017.
In its defense, Ole Sereni argued that it had purchased the land in question from a company identified as Swan Carriers Limited in 2007.
"Upon acquiring the two properties, the applicant obtained relevant development approvals and established the hotel thereon.
"The development took about three years. Ole Sereni Hotel is a reputable facility in the hospitality industry," the hotel's representatives told the court.
In July 2017, the state revoked titles for 136 parcels of land it intended to acquire for the construction of the Southern Bypass. The bypass connects Mombasa Road and the Nairobi-Nakuru Highway. 
At the time, the state explained that it had ruled the parcels as belonging to the public after listening to several parties in the matter.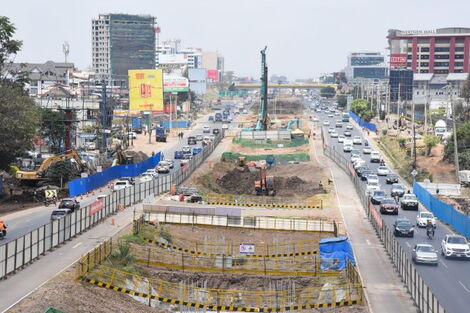 An aerial view of the on-going Nairobi Expressway project along Mombasa Road