There are different ways to celebrate birthdays that are memorable meaningful and with a positive impact on society.
Kenyan climate activist Elizabeth Wanjiru Wathuti, chose to celebrate her day planting trees and creating awareness on the importance of protecting the earth.
The vocal activist who turned 25 years on August 1, set out to keep up with her birthday tradition of planting trees according to her age every year.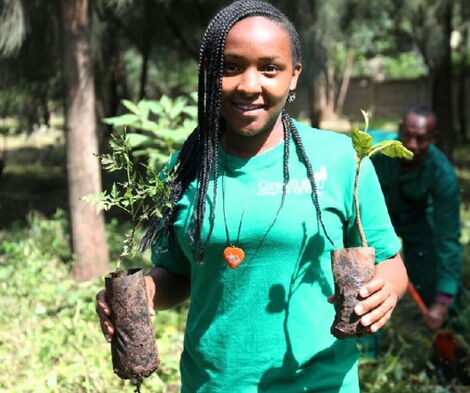 Climate activist Elizabeth Wathuti. She is the founder of Green Generation Initiative (GGI), an organisation that advocates for environmental education in Kenya.
Facebook
Speaking to Kenyans.co.ke, Wathuti stated that this year she would not be able to plant as many trees as she planned to due to the Covid-19 pandemic as she had managed to grow 400 trees the previous year.
"There is a difference between tree planting and growing. When you plant trees you have to follow up and take care of them and make sure they will survive and I can confirm the ones I planted last year are growing," she conveyed.
Despite the challenges of matching the number this year, she devised a way to get as many people involved as she rallied other environmentalists from around the world to plant trees for her.
"My birthday is on Saturday (1st August). Last year I planted 400 tree seedlings to celebrate. They are growing. This year, I will plant deciduous trees my age. I am not able to do it on large scale but together we can. Will you also nurture a tree to celebrate with me?" she posted three days before her birthday.
Her post went viral within the global conservation circles 266 retweets and over a thousand likes as many heeded her call.
Wathuti reported having received responses from people in Canada, France, Sri Lanka, India, Germany and locally in Kenya. Many wished her a happy birthday and some took on the challenge to plant trees in their locales posting them with the hashtag #ATreeforLizWathuti.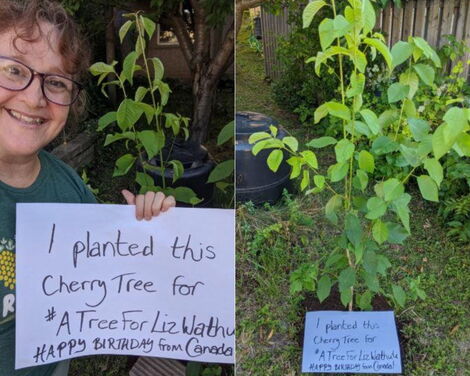 Louisette Lantiegne who took part in the #ATreeForLizWathuti on August 1, 2020.
Twitter
Louisette Lantiegne, a Canadian national posted, "Here is your Birthday cherry tree. Cherries from me to you. This sapling was growing too close beside the wall of my house. I saw your posting and decided to replant it. They make good fruits. #ATreeForLizWathuti now grows in my yard in Kitchener Waterloo,"
Florence Mimart from France planted a hibiscus plant Nerium Oleander with the hope of sprouting beautiful pink flowers.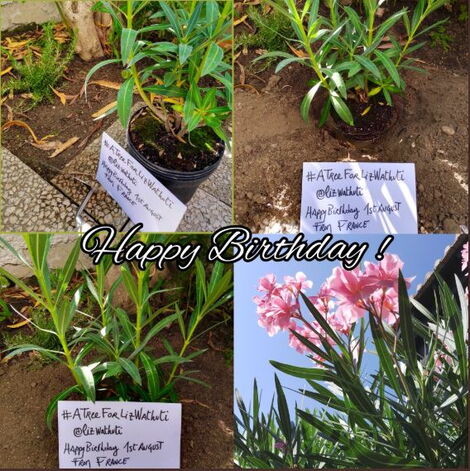 Florence Mimat from France planted a hibiscus plant.
Twitter
From Kenya, climate Activist and Founder PaTree Initiative Patricia Kombo also joined in the celebrations as well as Environment Teen ambassador Rahmina Paulette.
"Wish you a very happy birthday, keep fighting for the environment. Together we will win this fight for a better tomorrow. In the time when there is mass forest destruction across the world, there is urgent need of planned and scientific plantation," Avaneesh Shukla from India noted.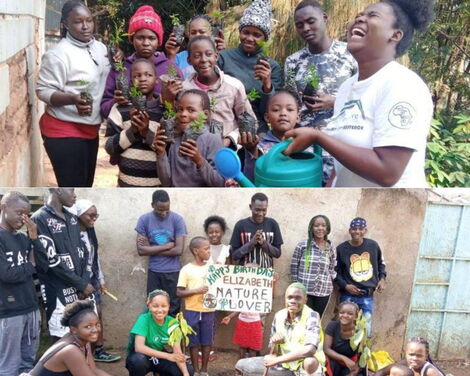 Top: Group led by climate activist Patricia Kombo and Bottom: the group led by environmental teen ambassador Rahmina Paulette
Twitter
Two climate activists who planted trees on August 1, 2020.
Twitter